Music
We are proud to present more than 18 hours of live music on our main stage.
Six of our acts include St. Raymond-grown talent—
alumni and parishioners of the parish.
Here is our line-up:
Saturday, July 1
1:00 p.m.: The Lost Vinyls
Opening the Fest are The Lost Vinyls, a band from Channahon/Joliet area, made up of 5 kids ages 13-15 who seriously rock! Sam Salaiz, an 8th grade student at the Cathedral of St. Raymond School is featured. The Lost Vinyls are a band from Channahon/Joliet area, made up of 5 kids ages 13-15 who seriously rock!
Check them out for yourselves!
---
1:30 p.m.: no eXscape
Regulars at Chicago Street Pub and the Joliet Moose Lodge, no eXscape includes Cathedral of St. Raymond Class of 2014 graduate Ryan Zobel on guitar. No eXscape plays all types of music from 21 Pilots, Weezer, Royal Blood, Foo Fighters, Heart, Led Zepplin to the Rolling Stones. Rock cover and original band consisting of Chloe Briese on vocals, Dakota Carl on Bass, Ryan Zobel on guitar and AJ Maland on drums & background vocals. Check them out for yourselves!
---
3:00 p.m.: Hot Mess
St. Raymond is thrilled to welcome back Oktoberfest –favorite Hot Mess to the Main Stage. Joliet Mayer Bob O'Dekirk is a featured musician. A Party Band..Steve K-Vocals, Bass Guitar. Mike DelRose, Vocals, Lead Guitar, Harmonies, Acoustic. Jose Perez-Drums and Percussions. Check them out for yourselves!
---
5:00 p.m: The Second Hand Soul Band
Motown, soul and rock & roll songs fill Second Hand Soul's playlist. This energetic, dynamic seven-piece band has many years of experience and really knows how to entertain! "Songs you remember from the nights you don't!" Check them out for yourselves.
---
8:00 p.m.: American English
Voted the best Beatles tribute band in the United States, American English is guaranteed to entertain. `The show begins with the early years of Ed Sullivan and includes classic Beatle favorites such as She Loves You, Twist and Shout, I Want To Hold Your Hand, and many others. American English captures the very essence of John, Paul, George and Ringo!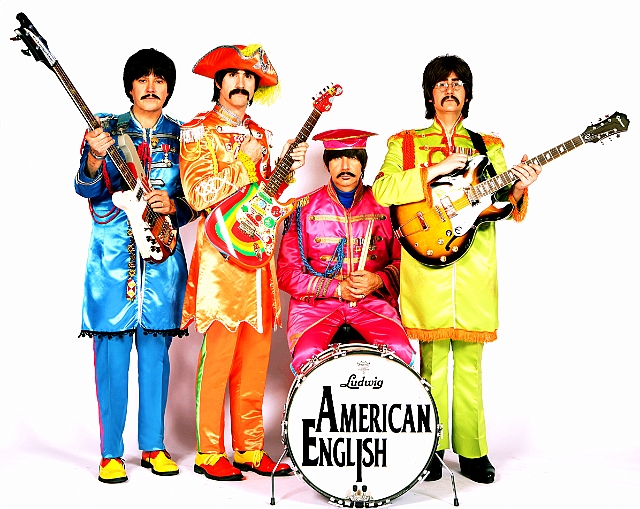 Next, you'll take a trip with American English as they recreate the psychedelic era of The Beatles. Every musical and visual detail is magically shaped in a colorful journey back in time. You'll witness incredible versions of selections from Sgt. Pepper and Magical Mystery Tour. All the songs are performed completely live without any tapes or backing tracks.
And in the end, you'll be transformed to a spectacular musical excursion of the final years of The Beatles partnership. Relive the years of The White Album, Let It Be, and Abbey Road. Moving renditions of songs such as Hey Jude, Something, and Let It Be, are sure to complete the tribute to The Beatles!Check them out for yourselves!
Sunday, July 2
12:30 p.m.: The New People
Take a step back to the 70s and 80s with this talented group of local singers and musicians who are reuniting at the Homecoming Fest. Directed by our own Dick Siegel and featuring several parishioners, the New People will provide great music—seventeen voices strong!
---

1:45 p.m.: Wood Fired Boys Band
Alum John Spesia and his pals are back on the St. Raymond stage to provide a folksy mix of acoustic rock.

---

3:00 p.m. : John Condron
Professional musician and St. Raymond school parent John Condron will entertain as only he can. John promises to provide old world soul with a new world sense of urgency.
Check John out for yourselves on YouTube

---
4:30 p.m. Wild Daisy
You loved them at RAYvinia last year, and you'll love them on the big Homecoming Fest stage. Wild Daisy is THE most energetic, dynamic female-fronted country band in the Chicagoland area. The band plays current, upbeat country, with a few pop/rock songs thrown in. Wild Daisy established a reputation in Chicago for consistently delivering high-quality, family-friendly, crowd-interactive, entertaining shows, with musicianship and energy that cannot be matched. Check them out for yourselves!
---
7:30 p.m. Maggie Speaks
Chicago's Maggie Speaks has been changing what people think of cover bands since 1997. Drawing off a huge range of music, Maggie Speaks cranks out an incredible non-stop high-energy show that leaves people breathless. You'll know every song, but you won't believe how this band delivers them one after another. Think of it as your favorite mix tape come to life! Check them out for yourselves!
Saturday, July 1
1:00 p.m.
The Lost Vinyls
1:30 p.m.
no eXscape
3:00 p.m.
Hot Mess
5:00 p.m.
The Second Hand Soul Band
8:00 p.m.
American English
Sunday, July 2
12:30 p.m.
The New People
1:45 p.m.
Wood Fired Boys Band
3:00 p.m.
John Condron
4:30 p.m.
Wild Daisy
7:30 p.m.
Maggie Speaks